You can invite other users to your Pipe17 account! This is useful when other members of your team will need access, or if you needed to provide temporary access to a developer or shipping manager, for example.
In this Article
Requirements
Before getting started on this guide, be sure that you are already an Administrator or account owner for your Pipe17 account. Without these permissions, you will not be able to add additional users.
Adding Users to Pipe17
Navigate to the Configuration Tab
Click Users
A list of current users will appear. If this is your first time adding users, your name and email address will be the only one on the list.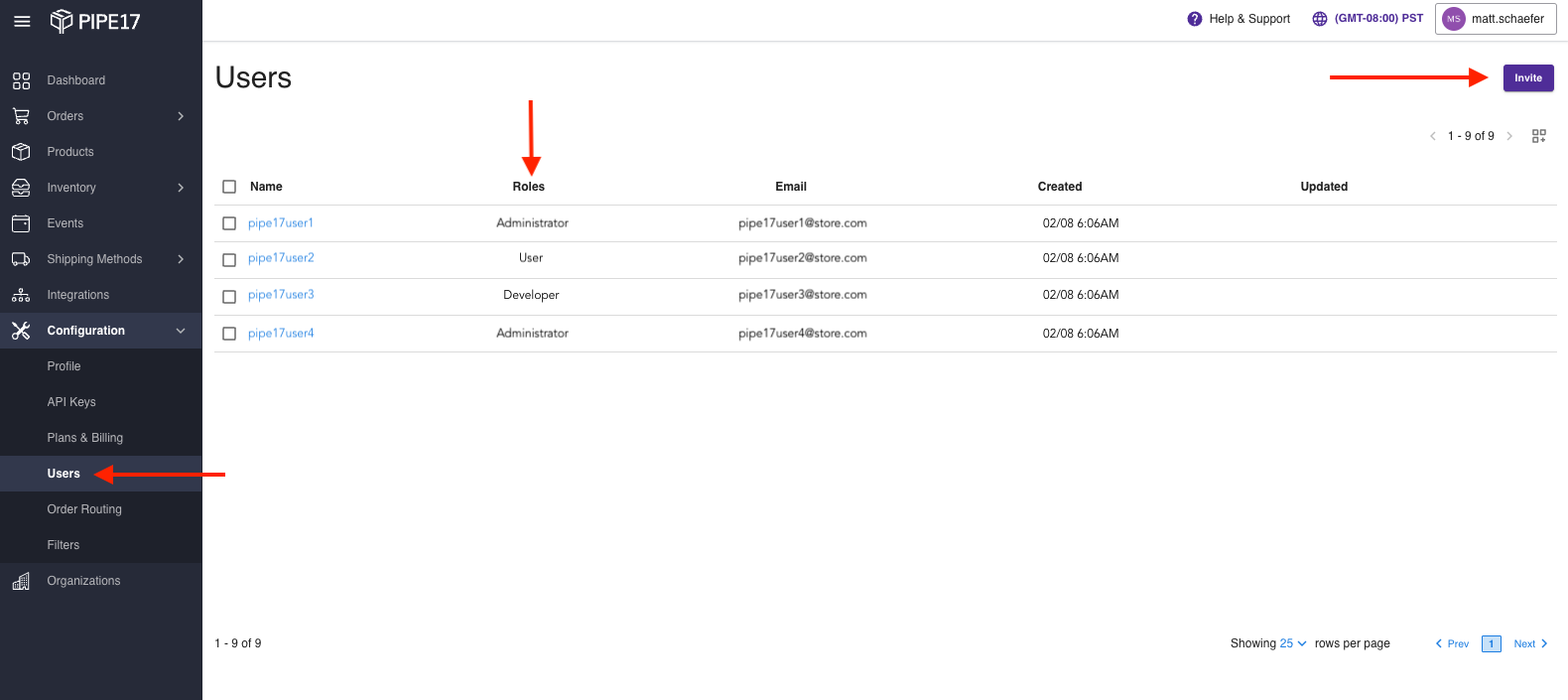 4. To add a new user click the Invite button in the top right corner
5. In the Invite User prompt, enter the first and last name of the user you are adding
6. Next, enter the email address of the new user.
7. Select the Role of the new user (Administrator, Developer, User)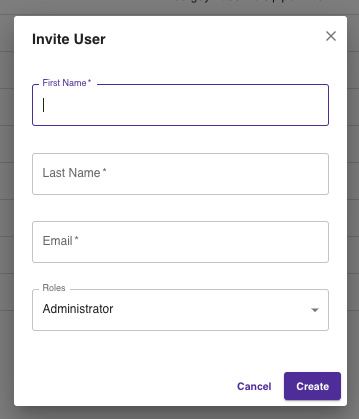 Setting Permissions
There are three levels of permissions in Pipe17:
Administrator: This level grants the user full and unrestricted access to Pipe17
User: This level grants the user access to orders, inventory, shipping requests. A User cannot add new integrations, configure connectors, or change, add or modify any mapping fields.
Developer: This level grants the user access to development resources such as field to field mapping.
Accepting the Invitation
Before the new user can begin using Pipe17, they must accept the email invitation you sent earlier. The invitation will arrive within 5 minutes after creating the user. Be sure that the new user checks their junk/spam folder.
Open the email titled "Welcome to Pipe17" and click Login. You will be directed to the organizations Pipe17 portal.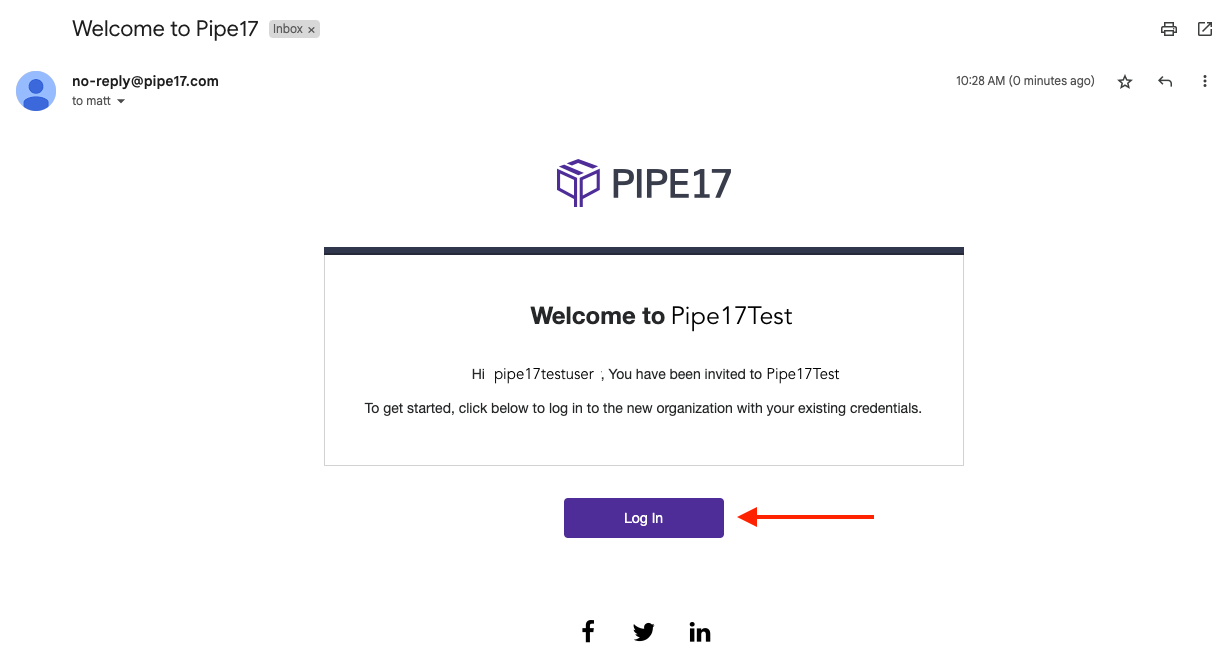 Removing or Editing a User
Now that you're familiar with the User & Permissions menu in Pipe17, you may want to revoke access for particular users or change their permissions level. Only users with Administrator access can do this. Let's review!
Click the Configuration tab
Click Users
You can select one or more users at once to either resend an invitation, or delete those users
To change the user's permissions level, simply click on the user name and change the Permissions drop down to your desired level: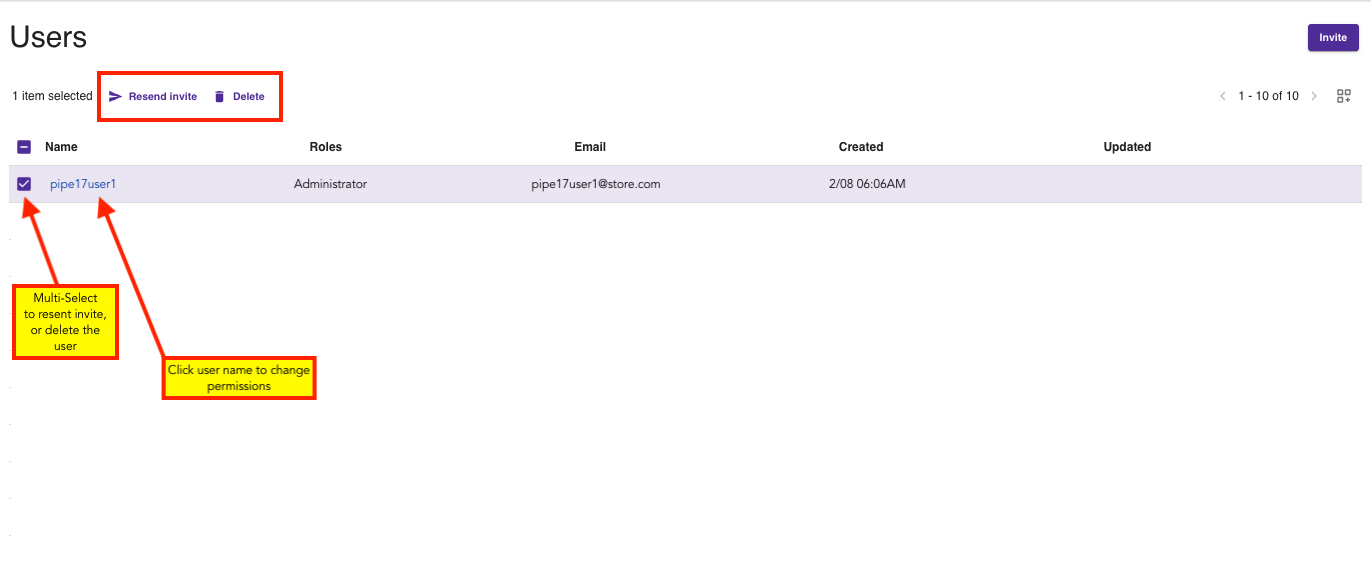 Need help with adding or removing users? Contact our support team. We're happy to help!