When you add integrations to Pipe17 we create "Locations" that you can use to pull or push orders and inventory. Often you will have many locations for both inventory and selling and you need to "merge" them together if they represent the same location from an inventory management perspective. (We also support aggregating all of the stock locations into one ecommerce location but this article does not cover this use case).
So if two integrations should reference the same location for inventory (stock on hand) and selling (available to promise) purposes you need to setup Pipe17 to support this need via the merge locations capability.
Let's take an example; the inventory in your 3PL Location "MCF US" might be the inventory that you want to sell in your Ecommerce platform via a location called "US 3PL". And you might have another inventory location MCF CA, whose inventory will be represented by a differently named location in your Ecommerce Platform. To enable this association in Pipe17 you need to merge the Ecom location that sells that inventory to the 3PL location that fulfills it.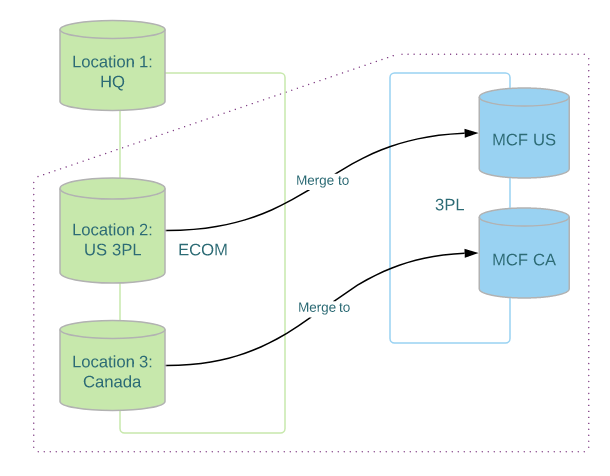 Once you know which two locations need to be associated together, open the one in Pipe17 that sells the inventory. A quick way to tell you have the right one is that the 3PL Integration field will be blank.

Take note of the entry in the table at the bottom of the page called "External Locations". This is the ID of the location in green above that needs to be entered as a new row into the "External Locations" for the location in blue above that has the inventory.

Click the "Merge to Another Location" button at the top of the page and then pick the location in green that should also have the same inventory values for what's available to sell. Wait a few seconds and then the page should update and the location status should change to "Merged" and the location you chose should be shown as a link as in the screenshot below.

If you want to be extra cautious (like me), click the link. The External Locations table in on that Location page should have a new row with the values of the Ecom location. that you took note of earlier.